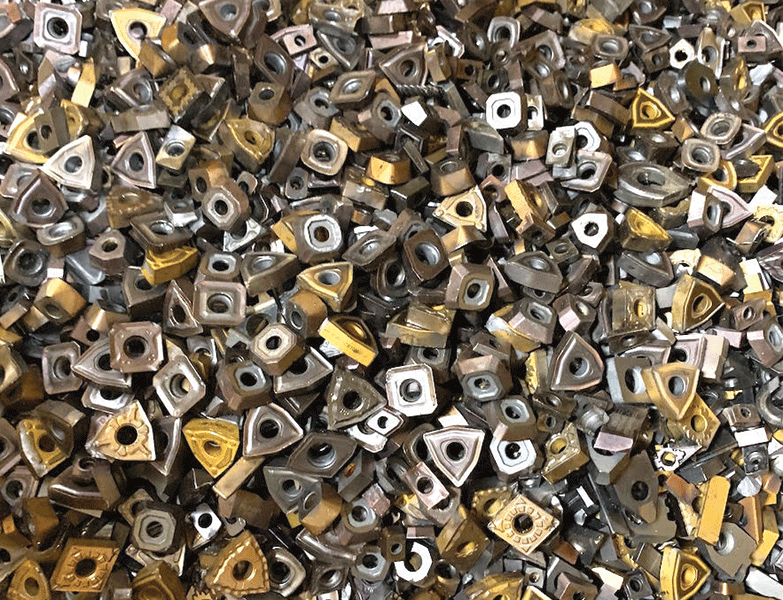 Tungsten Carbide (WC), called simply Carbide, Cemented Carbide, or (inaccurately) just Tungsten, is most commonly used in the Machining, Cutting Tools, Abrasive, Wire Drawing and Woodworking industries.
Tungsten Carbide is also used in Ammunition (armor piercing), Nuclear (neuron reflector), Sports (ski & trekking pole tips, snowmobile tracks, golf club weights, horse shoes) and Jewelry.
A gray and inorganic material, tungsten carbide significantly functions as a hardener for armor-piercing projectiles, cast iron, and the sharp and blunt edges of drills and saws. Besides these industrial uses, this metal is also used for creation of jewelry, owing to its hardness as well as deduced risk of certain allergic reaction among those that have sensitive skin.
The primary advantage of using tungsten carbide is its density and strength to cut shape and form from most all other metals while holding up in extreme heat. Different cutting tools are tipped in carbide metal, simply because this metal is incredibly strong and retains its sharpness for a long period of time.
Tungsten Carbide is extremely easy to recycle and is in very much demand in the international market. Even with its high demand, though, only 35-40 percent of it is available for recycling, as per the fact given by the International Tungsten Industry Association. For those who have any amount of tungsten carbide, be it from cutting tools, industrial uses or even from jewelry, you can easily sell it.
Common Types: Drills, Wear Parts, End Mills, Taps, Punches, Dies, Indexable Inserts, Circuit Board Drills, Saw Tips, Balls, Burrs, Mining Bits.